Tripawds is a user-supported community. Thank you for your support!
On 8/23/17 we had our consult with Oncology at the vet specialists office. After viewing the x-rays she felt that trying to remove the mass while saving the leg could not guarantee complete removal of the mass (which would then mean other things), but confirmed that amputation would be the best course of action. The surgeon examined Sweet Pea as well during the consult and felt he could get the whole mass if we opted for amputation. It was now starting to sink in that our sweet senior girl might lose her leg (big frown).
We were still very concerned about her lack of appetite and weight loss (as was the oncology vet) as she really hadn't been eating much at all over the past weeks. I was beginning to fear that by the time we did decide to go ahead with amputation and get it scheduled she might not be a candidate. The vet felt sure that the mass was causing Sweet Pea pain which in turn was affecting her desire to eat, but we just wanted to make sure we weren't missing something else. So before we made a final decision (amputation is definitely a big deal and there's no turning back) we had the vet specialist do an ultrasound (she called it a sonogram) to see if there wasn't something else going on. Thankfully there wasn't so we were sent home with a few meds for a few days to see if Sweet Pea would start eating, but unfortunately, save for one sitting, her appetite/interest just wasn't there. At this point we knew there was no other choice, we had to schedule the surgery and get the source of her pain removed before we would see any kind of other improvement. The surgery was set for 8/29/17.
I must say that I struggled with the thought of amputation. We've had Sweet Pea (ALL of her) for all of her 16 years and to think that a part of her would now be gone, it just saddened me. I know, probably sounds silly to a lot of people, and that's ok, I get it. And of course there was the struggle of "do we put her through this at 16" and then knowing that because of her age certain risks were higher. But we kept going back to a few things/facts: she has always been a healthy/hearty cat, at her checkup on the 12th the vet said her heart was strong, the x-rays and ultrasound were clear, and the prognosis for her recovery from amputation was very good given all of this. So we had to give her a chance!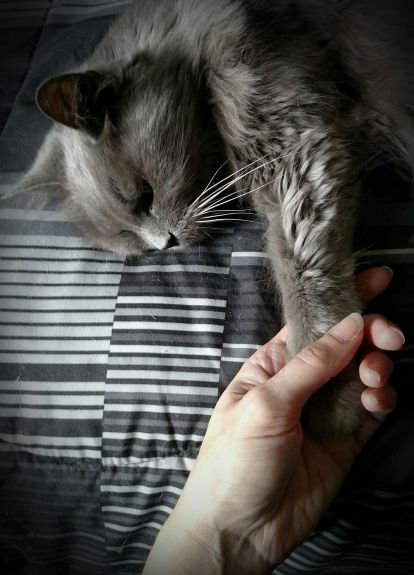 Posted by
4luvofcatz
on August 31st, 2017 at 6:40 pm