Tripawds is a user-supported community. Thank you for your support!
On 8/29/17 Sweet Pea had her front left leg amputated. I was beyond nervous, but at the same time somewhere inside I was glad that SOMETHING was finally being done. The vet ran more blood work in the morning prior to surgery in case something had changed (due to Sweet Pea's continued weight loss), but thankfully that came back good. Sweet Pea came through her surgery just fine…..WHEW! They kept her overnight and she came home late afternoon on 8/30/17.
Our first experience with a surgery like this on any of our fur kids, yes, we were nervous to say the least. The first thing she did upon exiting the carrier was go straight to the litter box. It was neither graceful nor really even a "walk", but she made it and I was both impressed and encouraged, although it was clear we would need to help her along while she learned how to get around with her new situation. Surprisingly, though, by the end of the evening we could already see that her gate was improving. And another encouraging thing for me was that she seemed interested in food and though she only ate small bites, she did that several times.  I had told myself that I will breathe a big sigh of relief when I see her interested in and eating food on her own. This night I was feeling optimistic!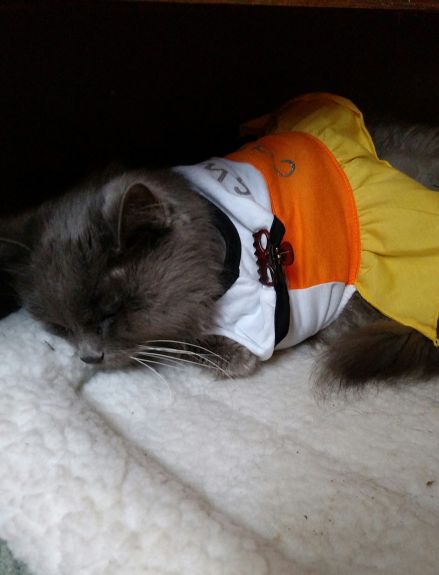 Posted by
4luvofcatz
on August 31st, 2017 at 7:07 pm